Das strategische Forschungsfeld "Intelligente Methoden und Materialien" verbindet die Profilbereiche "Sprache und Kultur im digitalen Zeitalter", "Komplexe Materie" und "Mathematische und computer-gestützte Wissenschaften". Die Forschenden kommen aus den Geistes- und Sozialwissenschaften, der Informatik, den Lebens- und Naturwissenschaften. Gemeinsam arbeiten sie an interdisziplinären Themen und Fragstellungen.
Komplexe Materie
Einzelne Bausteine können bei Zusammensetzung völlig neue Eigenschaften entwickeln. Diese zu erforschen und zu nutzen, hat der Forschungsprofilbereich "Komplexe Materie: Zusammengesetzte Bausteine mit neuen Eigenschaften" zum Ziel. Insgesamt 27 Professorinnen und Professoren aus den Fakultäten für Physik und Geowissenschaften, für Chemie und Mineralogie, für Biowissenschaften, Pharmazie und Psychologie, für Mathematik und Informatik sowie aus der Medizinischen Fakultät arbeiten dafür zusammen. Aus ihren jeweiligen Blickwinkeln untersuchen sie an einzelnen Objekten – angefangen bei winzigen Ionen über Moleküle bis hin zu komplexen Nanostrukturen – deren elementare Eigenschaften. So können funktionale Einheiten aus komplexer Materie wie Sensoren, Katalysatoren oder elektronische Bauelemente entwickelt werden. Schnittmengen der Arbeit von Forschenden aus Physik und Chemie mit den Biowissenschaften liegen beispielsweise im Bereich der Zellmechanik, um Erklärungen zu finden, wie und warum sich eine Zelle krankheitsbedingt verändert.
Der Forschungsprofilbereich "Komplexe Materie" kombiniert exzellente Grundlagenforschung mit faszinierenden Anwendungen. Die Forschenden stehen vor großen Herausforderungen, die nur durch die Kooperation bisher traditionell getrennter Fachgebiete und durch enge Zusammenarbeit von Experiment und Theorie bewältigt werden können.
Derzeit erhalten etwa 50 Promovierende erhalten in der Graduiertenschule "Building with Molecules and Nano-objects - BuildMoNa" des Forschungsprofilbereichs eine exzellente, strukturierte Graduiertenausbildung.
Sprache und Kultur im Digitalen Zeitalter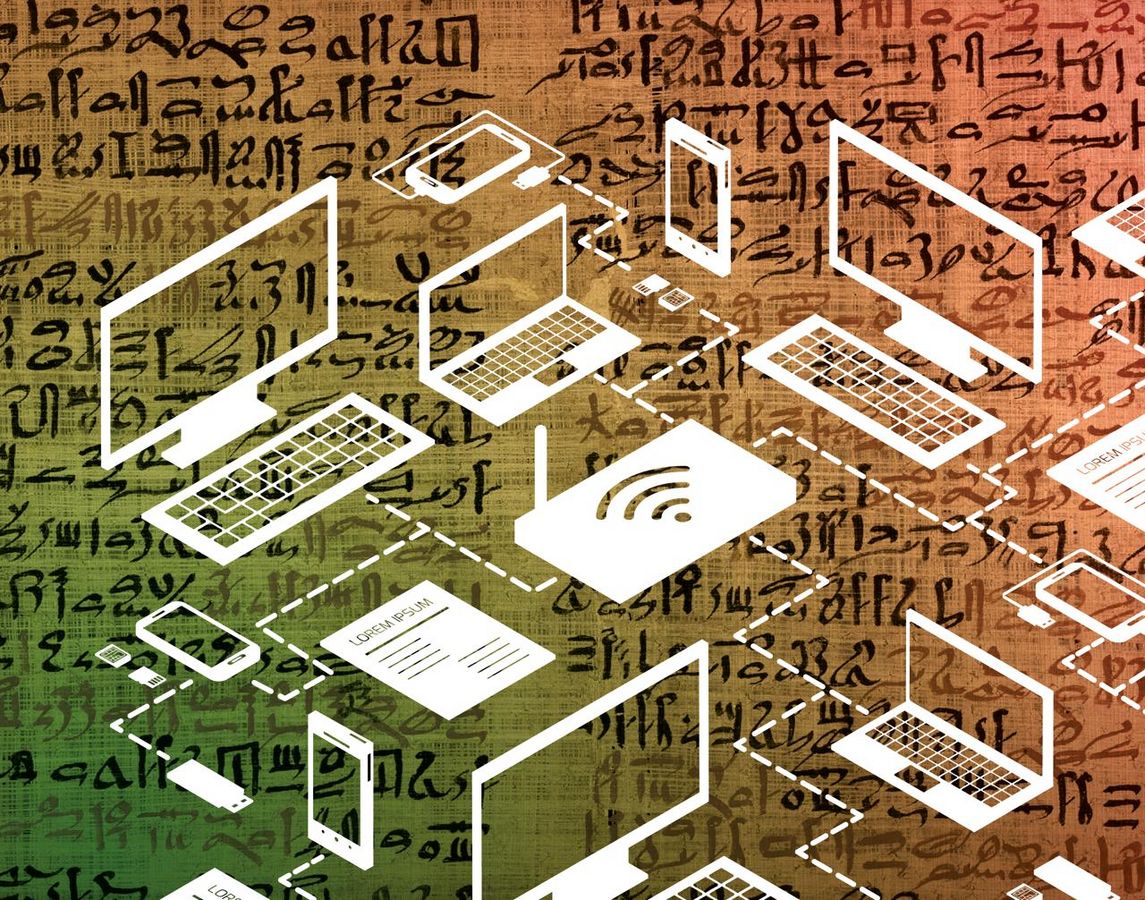 Der neue Forschungsprofilbereich "Sprache und Kultur im digitalen Zeitalter" soll Forschungskooperationen zwischen Geisteswissenschaften und Informatik anstoßen.
Hauptziel des Profilbereichs ist die Realisierung von Forschungskooperationen, mittels derer Ausprägungen von Sprache und Kultur im digitalen Zeitalter analysiert, Verfahren der Digitalisierung angewendet und ihre Bedeutung in der Gegenwart betrachtet werden. Der Bereich versteht sich als vermittelnde Kommunikationsebene zwischen Informatik und Geistes- und Sozialwissenschaften. Dabei geht es auch um eine kritische Diskussion zu methodischen Grundlagen, um die Etablierung einer produktiven Kommunikation und um das gemeinsame Ausloten neuer Forschungs-, Lehr- und innovativer Publikationsformen.
Methoden zur digitalen Repräsentation und Analyse geistes- und sozialwissenschaftlicher Quellen (wie Texte, Bilder und Musik) werden angewendet und weiterentwickelt. Ebenso wichtig ist die Betrachtung der Bedeutung zunehmender Digitalisierung für Material und Analysen, Abläufe des Wissens- und Kulturtransfers sowie Analysen von Sprachlichkeit und Spracherwerb in Bildungsprozessen.
Kritische Diskussionen zur Bedeutung digitaler Technologien und Medien führt etwa die Arbeitsgruppe #digitalegegenwart. Geforscht wird auch aus der Perspektive der allgemeinen und der einzelsprachenbezogenen Sprachwissenschaft unter anderem zur formalen Repräsentation von Sprache, deren Diversität, Verarbeitung, individuellem Sprachgebrauch und -erwerb. Forschungserfolge aus zahlreichen drittmittelstarken Kooperationsprojekten von Informatik und Geisteswissenschaften wurden mit der Verleihung der Humboldt-Professur für Digital Humanities an Professor Gregory Crane international anerkannt.
Mathematische und computergestützte Wissenschaften
Der Profilbereich umfasst die mathematischen und computergestützten Wissenschaften im breiten Sinne: die Verzahnung von Mathematik, Theoretischer Physik und Informatik mit Naturwissenschaften und Medizin.
Schwerpunktmäßig werden strukturelle Fragen untersucht, die direkt aus naturwissenschaftlichen Fragestellungen erwachsen. Dazu zählen exakte mathematische Modelle für die Physik, Vereinheitlichungen von Feldtheorien, Grenzen der Vorhersagbarkeit, die Natur des Zufalls und der Berechenbarkeit, Selbstorganisation lebender Materie, die Struktur großer Netzwerke, sowie die Behandlung großer Datenmengen. Ein Ziel ist dabei auch die Erschließung neuartiger Anwendungen.
Wissenschaftlerinnen und Wissenschaftler des Profilbereichs sind beteiligt unter anderem am DFG-Graduiertenkolleg "Quantitative Logiken und Automaten", an der International Max Planck Research School für Mathematik in den Naturwissenschaften, sowie am Big-Data-Kompetenzzentrum "ScaDS Dresden/Leipzig".