Our university offers international scholars a wide range of opportunities to spend a limited period of time abroad here in Leipzig. From DAAD visiting lectureships and scholarships, to our partnerships and Erasmus+ funding: read more about the various options.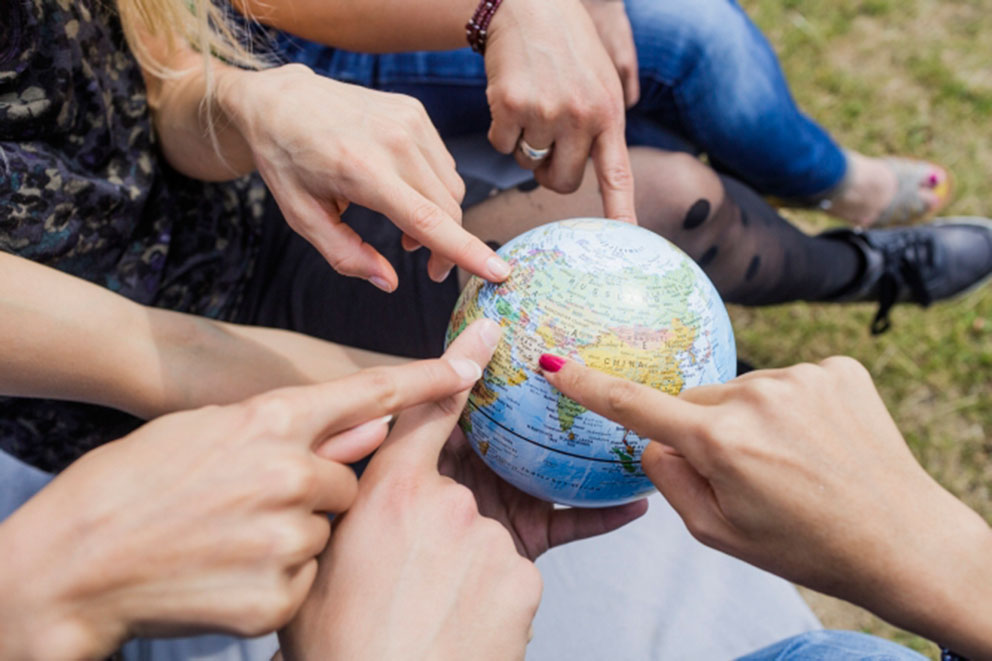 DAAD programmes
With its various programmes, the DAAD promotes internationalisation at German universities. The programmes are aimed at both future guest lecturers as well as visiting scholars.
The DAAD's visiting lecturer program allows particularly highly qualified international scholars to complete guest lectureships in Leipzig. The program applies to all subjects and to academics from all regions of the world.
Requirements
Guest lectureships are initiated by our university, which is responsible for overseeing the content and organisation of the project. Requirements for guest lecturers are:
Academic qualification (at least a doctorate)
extensive teaching experience.
The DAAD supports visiting scholars with scholarships for short stays of up to three months at our university. To be eligible, they require:
confirmation from the relevant supervisor at the respective institute at Leipzig University
funding approval from the DAAD.
Please contact the DAAD for more information.
The DAAD's project-based Personnel Exchange Programme (PPP) gives you the opportunity to strengthen your academic ties in the context of a binational research project. With more than 30 programmes on offer, the DAAD promotes cooperation between international researchers and German scholars. The programmes offer unique opportunities for further qualification, especially for junior academics.
The DAAD website provides an overview of current projects as well as calls for programme applications and more information on how to apply.
Requirements
The programmes are open to all disciplines. In order to apply, there must be a specific academic research project on which you would like to work together with our researchers.
Financial support
The specific additional personnel costs that may result from the participants' exchange are eligible for funding. Our university and your home university can only cover travel and accommodation expenses. Specific features of individual bilateral programmes are listed in the country-specific information.
Application
Bewerben Please apply via the DAAD Portal.
Erasmus+ funding
Erasmus+ offers further opportunities for funding a period of teaching or training at our university. Funding is available for international visiting scholars from Erasmus+ Programme Countries (KA 103) as well as from Erasmus+ Partner Countries (KA 107).
Under the Erasmus+ KA 103, visiting scholars from Erasmus+ Programme Countries can spend time teaching or training at our university. Please contact your local project partner to plan the details and schedule of your stay.
Requirements
In order to take part in an Erasmus+ KA 103 teaching or training placement, you will need to be employed at one of our partner universities.
Financial support
Please contact your home university to apply for financial support for your stay. Erasmus+ grants for lecturer mobility are always paid by the home institution.
As a researcher from an Erasmus+ Partner Country, it is possible to complete a teaching or training placement at our university. The placement should last at least five days up to a maximum of 60 days (excluding travel days). If you are on a teaching placement, you will be required to teach at least eight hours per week.
In order to be funded as a researcher or research assistant, you will first need to be nominated. This can only be done in the subjects specified in the endowment contract.
Requirements
The following documents are required in order to conduct a teaching or training placement with us under Erasmus+ KA 107:
Approved project application for Erasmus+ mobility funding with Partner Countries
Signed inter-institutional Erasmus+ agreement (iiA) between our university and your university
You will also require:
Employment at a partner university
Nomination by the person responsible for the project.
Financial support
During your stay, you will be eligible for a full daily allowance up to and including the 14th day of the mobility. The full daily allowance is 160 euros. Between the 15th and the 60th day of staff mobility funding, the grant is the equivalent of 70 per cent of the full daily allowance.
The one-off travel grant is calculated based on the linear distance between the place of departure and the destination.
| Linear distance | Amount |
| --- | --- |
| 10–99 kilometres | €20 |
| 100–499 kilometres | €180 |
| 500–1999 kilometres | €275 |
| 2000–2999 kilometres | €360 |
| 3000–3999 kilometres | €530 |
| 4000–7999 kilometres | €820 |
| 8000 kilometres | €1500 |
The procedure
Before you arrive
Fill in the Erasmus+ KA 107 (worldwide) Staff Mobility Agreement
Please indicate the exact dates and plans for your Erasmus+ teaching or training mobility. The document must then be signed by you and by the persons responsible at your university and at our university.
Online application and registration for Erasmus+ (worldwide) funding
Please also register in our MoveOn database and upload your Staff Mobility Agreement there.
Erasmus+ KA107 (worldwide) Grant Agreement
Based on the Staff Mobility Agreement and your online registration, we will provide you with a Grant Agreement for your planned stay. Please read this document carefully and amend or add your personal details if necessary. Payment arrangements will also be made.
At the start of the placement
Submission of signed Grant Agreement
Payment of grant
At the end of the placement
Fill in the Confirmation of Stay
Please enter all of the activities related to your stay at our university in the Confirmation of Stay form. Please make sure that the start and end dates of your stay are correct. Have the document signed and stamped by your local project partner.
After your stay
Erasmus+ Participant Report
Completing an Erasmus+ Participant Report is obligatory upon receipt of the grant. After your stay, you will receive an automatically generated email containing a link to the Participant Report (sender: EUSurvey; please remember to check your spam folder).
Recognition
Find out from your home university how your teaching or training placement can be recognised.