The information on this page will be translated into English as soon as possible. In the meantime, you are welcome to read on in German. If you have any questions or can't find the information you require, then please feel free to contact us.
Unsere Universität pflegt vielfältige Formen der Zusammenarbeit mit außeruniversitären Forschungseinrichtungen und innovativen Unternehmen. Ein wesentlicher Schwerpunkt der Arbeit des Sachgebiets Transfer ist die Förderung und Unterstützung dieser Zusammenarbeit mit Forschungs- und Transferpartnern, insbesondere in der Region. Wir pflegen ein umfassendes Netzwerk von potenziellen Partnern und unterstützen bei allen Fragen zu Planung, Kalkulation, Finanzierung und Management der Projekte.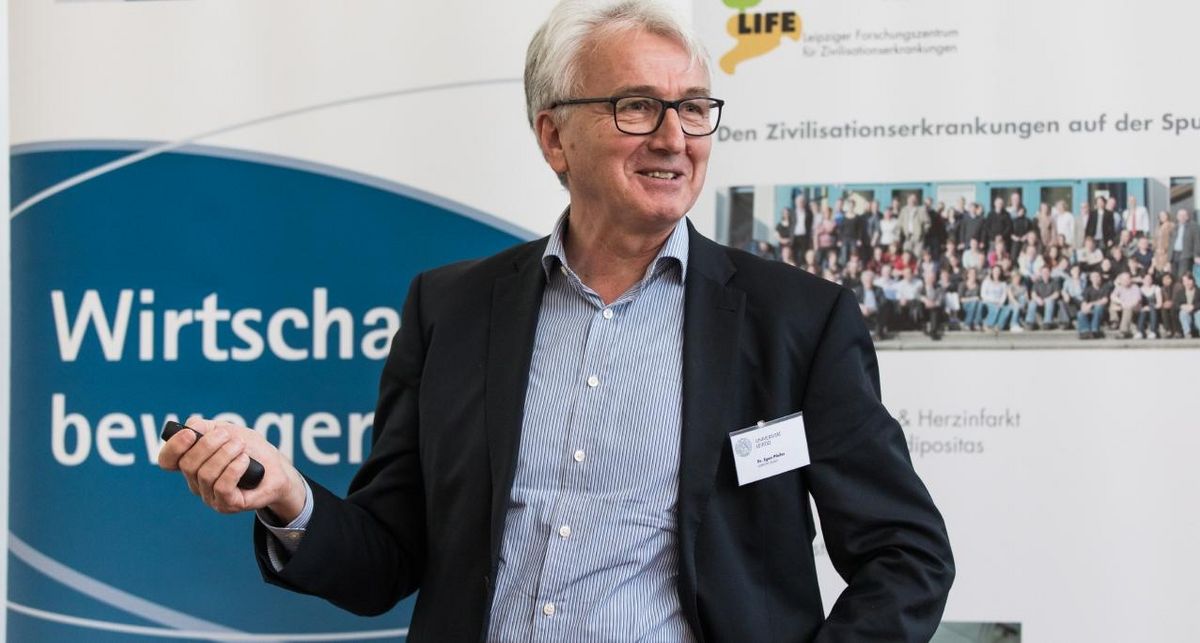 Auftragsforschung und Wissenschaftliche Dienstleistungen
Im Rahmen der Zusammenarbeit mit Forschungseinrichtungen und forschungsintensiven Unternehmen bearbeiteten Wissenschaftlerinnen und Wissenschaftler der Universität jährlich ca. 778 Projekte mit einem Vertragsvolumen von rund 9,2 Millionen Euro (2017). Gegenstand dieser Projekte sind kundenspezifische Aufgabenstellungen in den Bereichen Forschung, forschungsnahe Dienstleistungen und Beratungen. Dabei umfasst die Bandbreite alle universitären Forschungsfelder von der Medizin, über die Natur- und Lebenswissenschaften bis hin zu den Geistes- und Sozialwissenschaften.
Kooperationen
Im Rahmen von Verbundprojekten werden gemeinsam mit Forschungseinrichtungen und Unternehmen grundlegende und angewandte wissenschaftliche Aufgabenstellungen bearbeitet. Zum Erreichen eines gemeinsamen, in der Regel im öffentlichen Interesse liegenden Ziels, realisiert die Universität Leipzig anspruchsvolle Teilprojekte. Durch die Synergieeffekte ergeben sich Vorteile und Verwertungsmöglichkeiten für alle beteiligten Partner. Eine Vielzahl von Förderprogrammen ermöglicht die Finanzierung solcher Verbundprojekte.
Förderprogramme an der Schnittstelle von Wirtschaft und Wissenschaft
Das Zentrale Innovationsprogramm Mittelstand (ZIM) ist ein bundesweites, technologie- und branchenoffenes Förderprogramm. Gefördert werden unter anderem Kooperationsprojekte von Unternehmen und Forschungseinrichtungen zur Entwicklung innovativer Produkte, Verfahren oder technischer Dienstleistungen ̶ ohne Einschränkung auf bestimmte Technologien und Branchen. Die Universität steht dabei als kompetenter Forschungspartner für die Erbringung innovativer Leistungen zur Verfügung. Durch den damit verbundenen Technologietransfer unterstützen wir die Innovationskraft und Wettbewerbsfähigkeit der Unternehmen nachhaltig und leisten einen Beitrag zu deren Wachstum, verbunden mit der Schaffung und Sicherung von Arbeitsplätzen.
Um Unternehmen den Zugang zu neuen Technologien zu erleichtern, hat der Freistaat Sachsen eine Reihe von Fördermaßnahmen eingerichtet. Zielstellung ist dabei die Einführung innovativer Produkte und Verfahren zur Steigerung der Wettbewerbsfähigkeit.
Im Rahmen der FuE-Projektförderung werden unter anderem Verbundprojekte von Unternehmen mit Forschungseinrichtungen gefördert. Unsere Universität unterstützt diese bei der Entwicklung neuer oder verbesserter Produkte und Verfahren.
Durch die Technologietransfer-Förderung erhalten Unternehmen eine Zuwendung für den Erwerb technologischen Wissens zur Realisierung neuer beziehungsweise an einen neuen Stand angepasster Produkte oder Verfahren. Unsere Universität steht dabei den sächsischen Unternehmen als innovativer und zuverlässiger Technologiegeber zur Verfügung.
Mit dem Programm InnoTeam werden Kooperationen von kleinen und mittleren Unternehmen und Hochschulen beziehungsweise Forschungseinrichtungen bei der Bildung von Kompetenzteams unterstützt. Unsere Wissenschaftlerinnen und Wissenschaftler engagieren sich in diesen Kompetenzteams bei der industriellen Forschung und experimentellen Entwicklung zur Stärkung der Innovationskraft und Wettbewerbsfähigkeit der beteiligten sächsischen Unternehmen.
Netzwerke und Projekte
SEPT (Small Enterprise Promotion and Training) unterstützt den Technologietransfer und fördert Unternehmensgründungen an der Universität Leipzig. Darüber hinaus engagiert sich SEPT in der Entwicklung mittelständischer Strukturen im außereuropäischen Ausland und begleitet ostdeutsche Unternehmen bei der Erschließung von Auslandsmärkten. Das Programm verfügt über ein Auslandsbüro in Hanoi, Vietnam und über ein Netzwerk an Kooperationspartnern in mehr als 20 Ländern.
Die Industrie- und Handelskammer (IHK) zu Leipzig und die Leipziger Hochschulen starteten 2003 gemeinsam die regionale Initiative "Wirtschaft trifft Wissenschaft". In regelmäßigen Veranstaltungen werden aktuelle Fragestellungen der Förderung des Wissenstransfers diskutiert und erfolgreiche Beispiele vorgestellt. Auf der jeweils begleitenden Ausstellung präsentieren Hochschulen und regionale Einrichtungen ihre Leistungsangebote.