Joining the Alumni Network allows you to stay in touch with your university. You will receive the dedicated alumni newsletter and magazine on a regular basis and have the opportunity to participate in a wide range of events. Leipzig University alumni can also benefit from a range of tailored further training courses run by the University as well as campus tours.
Stay up to Date
There are lots of ways to stay informed about your university:
The alumni magazine is published once a year in December and is sent by post to all alumnae and alumni registered in the alumni portal. You can also read the magazine online.
Three times a year (in March, June and October) all those registered in the alumni portal can also look forward to receiving the alumni newsletter by email.
To subscribe to the newsletter and the magazine free of charge, register with your contact details in the Alumni Network.
All Issues of the Alumni Magazine
Alumni Magazine 2021
View e-paper
Alumni Magazine 2020
View e-paper
Alumni Magazine 2019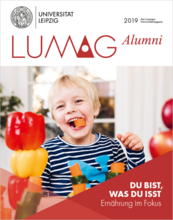 View e-paper
Events FOR and With alumni
Our "FOR and WITH Alumni" events are especially aimed at alumni. Take a look behind the scenes at the University and find out the latest news from the areas of research, teaching and campus life. Take advantage of this opportunity and compare notes with other alumni.
If you are planning your own alumni meetings and reunions, we at the Alumni Office would be happy to offer our support. We can provide suggestions, put you in touch with people to help your prepare, and also supply informative literature.
Alumni Academy
Social and professional requirements are constantly changing. Only by continuously developing one's own knowledge and skills is it possible to meet these requirements and to recognise and help define new perspectives. Leipzig University's Alumni Academy is one expression of lifelong learning for our alumni. It is aimed at the needs of academics of all disciplines with professional or scholarly experience, providing an opportunity for continuing education. The workshops are designed to impart basic knowledge on topics that are as relevant as possible regardless of participants' disciplines and occupations.