We want to learn from the best: Nature. Can we build molecular devices good as nature? We want to understand the highly optimized natural systems and recognize their tricks. Therefore, we are working on the following projects:
Research! - and you will be happy

Konfuzius
MDR Meetings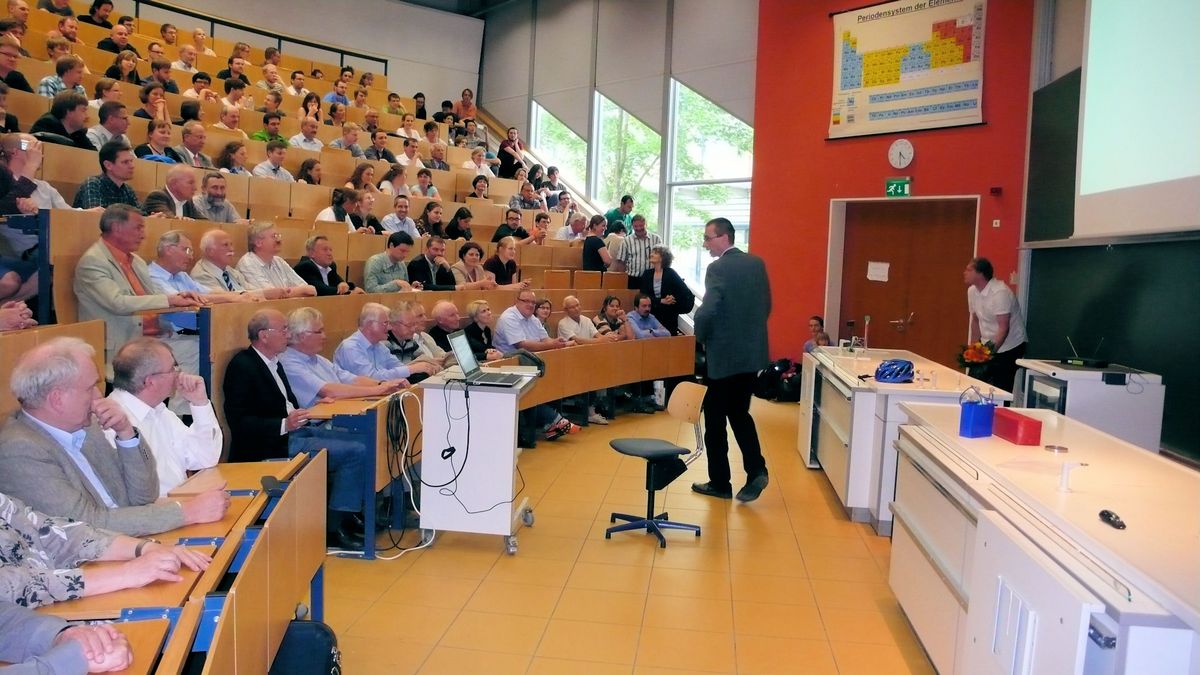 Twice a year we organize a come-together to meet all people working on the field of Magnetic Resonance of our local region. We call this meeting "Mitteldeutsches Resonanztreffen - MDR" (local meeting of people working on MR).
Until 2020 already 46 MDR meetings took place. This series was originally initiated 1997 by Professor Stefan Berger and nowadays continued by Professor Jörg Matysik.
47. MDR-Meeting
Mitteldeutsches Resonanztreffen "MDR-47"
Monday, den 3rd of Mai 2021, 14:30 o´clock
Small Auditory, Cental Building Faculty of Chemistry, Johannisallee 29, 04103 Leipzig (Entry Philipp-Rosenthal-Str.),
and broadcasted via ZOOM (link to be announced)
14:30 -14:35 o´clock
Prof. Dr. Harald Möller, Head of MRZ
"in Memorial to Dieter Michel"
14:35 - 15:20 o´clock
Prof. Dr. Jens Meiler, Universität Leipzig, Fakultät für Medizin, Institut für Wirkstoffentwicklung
"Combining Rosetta with sparse magnetic resonance restraints for membrane protein structure determination"
15:45 - 16:30 o´clock
Dr. Carlos Matthea, Technische Universität Ilmenau, Polymerphysik
"1H and X-nuclei hyperpolarization for molecular dynamics studies by DNP-field-cycling NMR"
16:30 - 17:15 o´clock
Prof. Dr. Karl-Titus Hoffmann, Universität Leipzig, Institut für Neuroradiologie
"MRI in der neuroradiologischen Klinik"
---------------------------------------------------------------------------------------------------
Beginning at 6 p.m. we should have a collective dinner at Restaurant "Bayerischer Bahnhof" am Bayrischen Platz (as COROAN rules will allow).

MDR-46
The last meeting MDR-46 took place on 2nd of November, 2020, only online due to CORONA rules.
Prof. Dr. Christian Mayer, Universität Duisburg-Essen, Physikalische Chemie
"How to control membrane permeability? A PFG-NMR-study on dispersed vesicles"
Prof. Dr. Günter Grampp, Technische Universität Graz, Physikalische Chemie
"Kinetics of electron-transfer reactions measured by EPR-linebroadening effects"
Prof. Dr. Johannes Bernarding, Universitätsklinikum Magdeburg, Institut für Biometrie und Medizinische Informatik
"MRI und MRS in der Hirnbildgebung"
Books
50 and More Essential NMR Experiments
Click here to turn
Publications
Publications of our group members (chronological)
Theses
2019
Pavlo Bielytskiy: Heteronuclear spin-torch experiments on photosynthetic reaction centers
Daniel Gräsing: Photo-CIDNP MAS NMR – Generation, transfer and application of nuclear hyperpolarization
2018
Marija Küster: Advanced high resolution and photo‐CIDNP MAS NMR to resolve operational principles of photosynthetic recation centers
2017
Roy, Upasana Magnetic resonance methods to study molecular mechanisms of neurodegeneration and depression
Hollenbach, Julia Probing Structure and Dynamics in Advanced Silica-Based Materials by Hyperpolarized 129Xe NMR Spectroscopy
Zill, Jeremias Der Festkörper-Photo-CIDNP-Effekt im Baum des Lebens
Paul, Shubhajit Dynamics of Photo-induced Spin-Polarization

2019
Lisa Köhler Einfluss von Punktmutationen eingeracht in Slr1393g3 aus Synechocystis sp. PCC6803 auf die spektroskopischen Eigenschaften
Patricia Falkenstein Dynamics Studies of UV Pretreated Polyethylene Terephthlate Using Solid‐State NMR Spectroscopy
Richard Aures Untersuchung mesoporöser Materialien mittels 129-Xe NMR Spektroskopie
Yunmi Kim The effect of lyophilization on heterogeneity and electronic structure of proteins: A 13C NMR study on the photochromic cyanobacterial phytochrome all2699 from Nostoc sp.
Ziyue Zhao 15N-Photo-CIDNP in cysteine-lacking LOV domains
Alice Grün The Analysis of Protein Species of Therapeutic Proteins on the Model Protein Ovalbumin
Christian Geheb Passive Sammelmethoden im Kleingewässermonitoring
Yueh-Jen Lin Lipid-analysis of human plasma using GC-MS
Tainyu Bai Application of High Resolution Magic Angle Spinning (HR-MAS) NMR in Zebrafish Model and Optimization of Localized 31P NMR in Phantom Solution

2018
Katarzyna Maria Dziubinska‐Kühn Towards Photo‐CIDNP MRI
Zhang Zhe NMR‐based Structural Assignment oft he Biliverdin Chromophore in a Bacterial Phytochrome from Pseudomonas syringae pv. tomato
Benedikt Zöhrer Standardisierung der Quantifizierung von Apolipoproteinen mittels LC‐MS/MS
James Otis An electronic and conformational MAS NMR investigation of three red/far‐red absorbing bilin dependent GAF domain photoreceptors
Marianne Wenzel High‐resolution magic‐angle‐spinnung 1H NMR and solution state 31P NMR on mouse brain to investigate cholesterol, N‐acetylaspartate an phospholipids in cerebellum associated with Alzheimer's disease
Patrick Kurle The solid‐state photo‐CIDNP effect in blue light photoreceptors
Julia Harzdorf Charakterisierung der Atlantik‐HLB‐L‐Disk als Passivsammler für wasserbürtige Pestizide Laborkalibrierung und Freiland‐Testung
Erin Reid Implementation of a Method for Whole Genome Amplification on a Microfluidic Platform for Point‐of‐Care Testing
Annalena Werner Quantifizierung der 20 kDa‐ und 22kDa‐Isoformen des humanen Wachstumshormons mittels LS‐MS/MS
Leonard Dreyer Der selektive Nachweis von reaktiven Sauerstoff‐Spezies mittels LC‐MS
Karoline Bischof Entwicklung und Validierung eines Extraktionsprotokolls für bioaktive Lipide in murinem Lebergewebe für die LCMS/ MS‐Analytik

2017
More, Shweta Analysis of Polysaccharides by MALDI-Mass Spectrometry
Ahyoung Kim Assays and characterization of drought protective phytoeffectors
Viet Duc Nguyen Glykierungspotential von ernährungsbedingten Kohlenhydraten unter physiologischen Bedingungen

2016
Sharma, Jeevan The potential of GC/MS metabolite profiling to analyze the metabolic regulation of glycolysis and the TCA cycle in cancer cells
Fritzsche, Stefan Derivatisation of methylglyoxal with substituted phenylhydrazines for analysis by LC-ESI-MS

2014
Bielytskyi, Pavlo Application of 129Xe NMR Spectroscopy on the long-term thermal energy storage composites
Gräsing, Daniel Darstellung und Charakterisierung von modifiziertem MIL-100(Al) – FK-NMR-spektroskopische Studie der Veränderungen des Al-MOFs durch Synthese, Aktivierungsschritte und Insertion einer Katalysatorvorstufe

2013
Hollenbach, Julia Intensitätsgesteigerte 129Xe-NMR-Spektroskopie an makrozyklischen porösen Systemen