As a European funding programme, Erasmus+ offers our university a wide range of opportunities in worldwide higher education cooperation with Erasmus+ Partner Countries and Programme Countries. The Erasmus+ programme has given rise to a number of partnerships. Experience abroad for students, lecturers and university staff is at the heart of the funding programme, which supports international university cooperation in teaching and study.
Erasmus+ Programme Countries are the 28 EU Member States, Turkey, Norway, Iceland, Liechtenstein, the Republic of Macedonia and (beginning in June 2019) Serbia.
Partner Countries are the neighbouring countries of the EU, countries of the regions of Asia, Central Asia, Latin America, the ACP countries (African, Caribbean and Pacific states) and other industrialised countries.
Promoting Mobility
Within Key Action 1: "Mobility of Individuals" we support the academic exchange of staff between our university and institutions in Partner and Programme Countries.
As part of Erasmus+ KA103 (Europe), we can support our students and our teaching and university staff during periods abroad at institutions in Programme Countries.
Student mobility:

Staff mobility:

Spending time at our university
Given our institutional links with partner institutions in the Programme Countries, under Erasmus+ KA103 members of international universities have the opportunity to stay with us in return:

Inter-institutional agreement
Mobility can be supported if an inter-institutional agreement is in place with a higher education institution in a Programme Country. Agreements are prepared by the Erasmus+ coordinators at the faculties and institutes in consultation with the foreign cooperation partners and our university's International Centre. Arrangements on the mutual recognition of academic achievements and on the integration of teaching stays into the curriculum at both institutions form the basis of such agreements.
Erasmus+ coordinators
Dedicated Erasmus+ coordinators are authorised by the deans to assume organisational responsibility for Erasmus+ mobility. They are responsible for
the conceptual design of the Erasmus+ cooperation for student and staff mobility
the specialist arrangements of an inter-institutional agreement
selecting participants
providing participants with specialist support.
Details of the individual Erasmus+ coordinators can be found via the KISS database for students, teachers and employees. In addition, KISS contains information on who is responsible for the recognition of academic achievements abroad in the individual subjects.
Our university's International Centre is responsible for central coordination of the Erasmus+ programme.
Erasmus+ KA107 (Worldwide) means that it also possible to provide financial support for study, teaching and training visits to partner institutions in the Erasmus+ Partner Countries.
Leipzig is among the highest funded universities in Germany. Our International Centre is in charge of applications and implementing Erasmus+ funding projects for subject-based exchanges. Since 2015, we have been promoting exchanges with a total of 60 partner universities outside Europe in 29 countries worldwide. Students, doctoral candidates and employees, especially in the philological and social sciences, in theology, chemistry, pharmacy, computer science and theatre studies, can benefit from Erasmus+ all over the world.
One special feature of this part of Erasmus+ is our university's responsibility for supporting stays by members of the foreign partner institutions at out faculties and institutions.
Support is available for academic stays at institutions in eligible Partner Countries
Support is available for academic stays at our university from institutions in eligible Partner Countries
for students
(studying between 3 and 12 months)
for doctoral candidates
(between 3 and 12 months)
for employees
(teaching and training stays of between 5 and 60 days)
2019 call for proposals for funding under Erasmus+ KA107
The European Commission usually advertises the Erasmus+ KA107 programmes in the autumn. The International Centre coordinates our university's application.
European Union application deadline: 5 February 2019
A 36-month project commences on 1 August.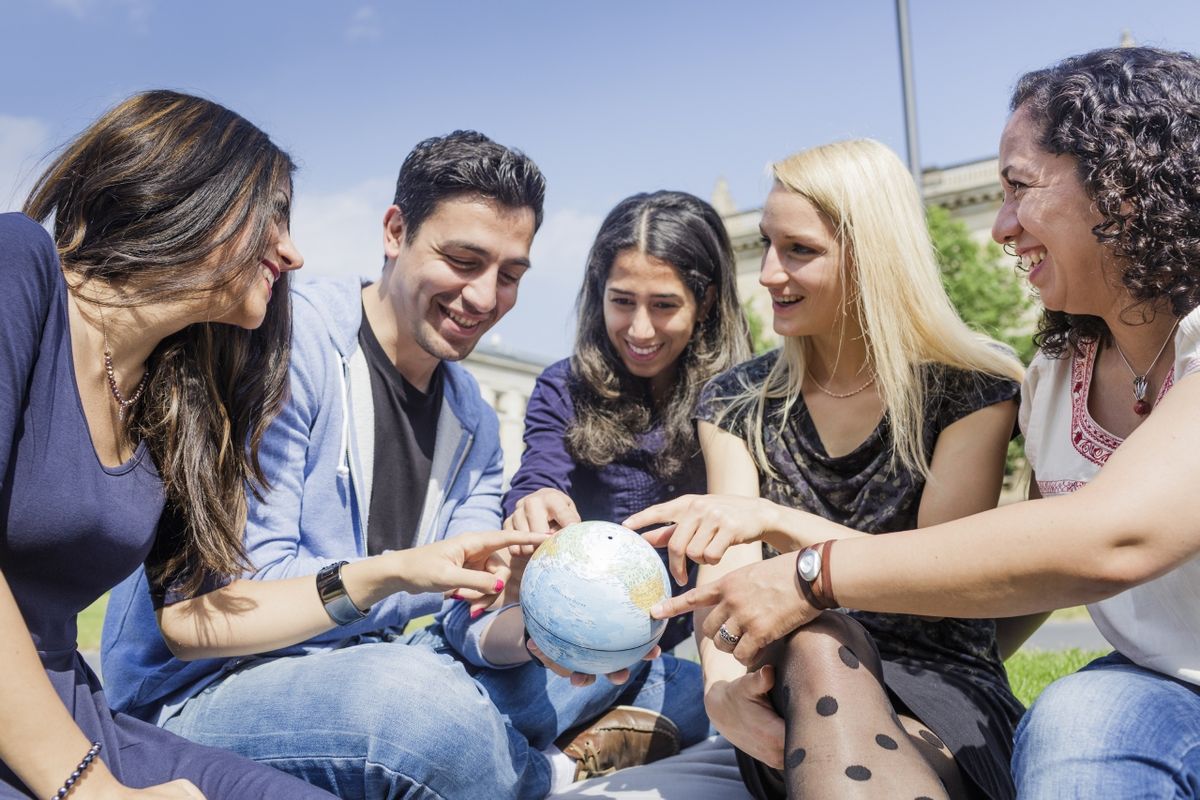 Promoting Higher Education Cooperation
Within Key Action 2: "Promoting higher education cooperation", the European Union supports the development and implementation of strategic partnerships and collaborative projects with institutions in Programme and Partner Countries.
Erasmus+ offers various funding instruments for this purpose, which can be used to support partnerships and collaborative projects on request.